Are you looking for a tax deduction before the end of 2011?
Donate Your Car to Save-A-Pet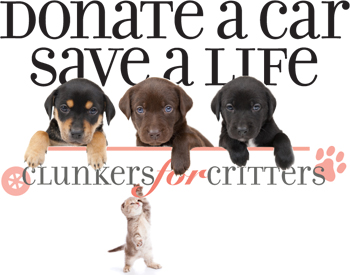 Save the life of a rescued animal by donating your old or junk car, truck, van, SUV, or RV to Save-A-Pet and get a tax deduction. Just click on the link below to download the form and fill in the required information. You can fax or email the form and we will do everything else. We will pick up your car and provide you with a receipt, showing you are eligible for a tax deduction. If you have any questions, please contact our office at (631) 473-6333. Read More

3 Easy Steps to Donate Your Car

1) Complete and send back Save-A-Pet's Car Donation Form. You can either email this form, or print and fax this form to (631) 978-0100.

2) You will then be contacted by a representative of Save-A-Pet who will make arrangements to pick up your vehicle.

3) At the time of pickup, you will be asked to provide a valid title to the vehicle and your driver's license and to sign Motor Vehicle Form MV-35. If you do not have your title, and the vehicle is more than seven years old, then your driver's license and MV-35 will be sufficient.
Your vehicle will be either scrapped and you will be provided with a tax receipt showing the vehicle's value at $500 or a receipt in the amount it was sold for after the vehicle is sold. Save-A-Pet will send you a letter with a Charity Tax ID number to finalize the donation.
How You Can Help Save-A-Pet
Help Save-A-Pet Animal Rescue and Adoption Center shelter a dog or cat until he/she is adopted. $50.00 will spay/neuter a stray cat, $75.00 will help rescue a dog, and $100.00 will provide needed surgeries. 100% of the donations go directly to the animals and are tax-deductible. Payments are secure and you will truly make a difference in the life of a shelter animal on Long Island.
Save-A-Pet Animal Rescue | 608 Route 112 | Port Jefferson Station, NY 11776 | 631.473.6333