Save-A-Pet Aids Four Pit Bulls in
Dramatic Rescue

The tireless workers and volunteers of Save-A-Pet Animal Rescue and Adoption Center, Inc., recently rescued four starving and neglected Pit Bull Terriers from the Mastic area. The dogs — three females and one male — had been used for breeding purposes and abandoned when their owner left the state. Left alone outside in kennels, the former pets were only able to sustain themselves and survive due to melted snow from Winter Storm Nemo. Read More
Save-A-Pet To Host "St. Pitty's Day" Party
Save-A-Pet Animal Rescue and Adoption Center, Inc. will be holding a "St. Pitty's Day" Party at the shelter on Saturday, March 16, from noon until 5:00 pm. For a $10 donation — which will go to benefit the shelter — guests will enjoy an authentic Irish buffet of corned beef and cabbage, Irish soda bread, delicious desserts, beer, and Irish beverages — and get to meet the sweet and playful Pit Bulls of Save-A-Pet that are all available for adoption! Read More
Lynne Schoepfer Speaks to "Green Teens" about Helping the Organization and the Benefits of Animal Adoption
On February 25, Save-A-Pet Executive Director Lynne Schoepfer spoke to the "Green Teens" at their first monthly meeting, which was held at the Port Jefferson Free Library's Teen Center.
During her 45-minute presentation, Ms. Schoepfer talked about Save-A-Pet, what the organization does and how they can help through donations and volunteering their time. Read More
Fur Ball Raises $15,000 for Save-A-Pet

In honor of pets and animals in need, Save-A-Pet Animal Rescue and Adoption Center Inc. held its 12th Annual "Evening for the Love of Animals" Fur Ball 2013 on February 14 at Flowerfield Celebrations Catering in St. James. The event raised $15,000 for Save-A-Pet.
Save-A-Pet also awarded Karl Reamer, Pamela Rice and Kim Taliercio-Parpan with the Waldo, Mia and Gianni Awards, respectively... Read More
Act 1 Entertainment President Karl Reamer Sets Goal to Raise $10,000 for Save-A-Pet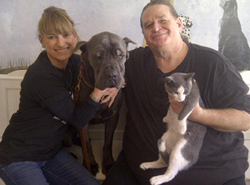 Act 1 Entertainment, Inc. President Karl Reamer, who was recently honored with "The Waldo Award" at this year's annual "Fur Ball" for his tireless community spirit and dedication to the orphaned animals at Save-A-Pet Animal Rescue and Adoption Center, Inc., has reached out to the community seeking sponsors for his weight loss challenge in an effort to raise even more funds for Save-A-Pet. Read More
Cliffs Clinic located at Save-A-Pet is proud to announce that we will be doing low cost spay/neuter for dogs and cats, in addition to feral cats.
Please call (631) 473-6333 for an appointment or fill out our online form.
We are located at 608 Route 112, Port Jefferson Station.
Adoption
Center
These Pets Need
a Home
All of these pets have either been spayed or neutered and are up-to-date with routine shots.
Dollie
Dollie needs a home with a little patience. She is a little shy. Dollie will become a devoted companion with the right person.
Read More »
Kittens, Kittens and More Kittens....
We have MANY to choose from. Every color you could possibly think of! Stop on by and see these sweet babies ! Please do not call, just come on in. All of the kittens at Save-A-Pet are tested for Fiv and Felv, spayed and neutered, vaccinated and dewormed.
Read More »
View pets in our adoption center and fill out our online adoption form.