Dori Scofield Featured in
Newsday's "Winners"
Save-A-Pet President and Founder Dori Scofield was recently named one of Newsday's "Winners" for receiving the Pioneers in Progress Award from Last Hope Animal Rescue.
Author Dianne Greco Signs Copies of Her Book
"In The Hands of Grace" at Castaways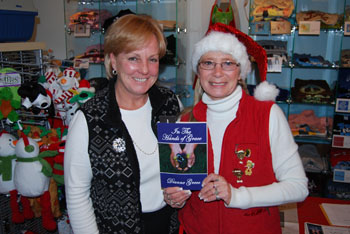 Local author Dianne Greco signed copies of her latest book "In The Hands of Grace" at Castaways, Save-A-Pet Animal Rescue and Adoption Center's retail store and pet adoption facility, in Port Jefferson on December 3. All proceeds from the book sales went to benefit Save-A-Pet.
Low Cost Spay/Neuter
Cliffs Clinic located at Save-A-Pet is proud to announce that we will be doing low cost spay/neuter for dogs and cats.
Please call (631) 473-6333 for an appointment.
We are located at 608 Route 112, Port Jefferson Station.
Help Save-A-Pet win up to $5,000!
Type in exactly, or copy/paste:
"Save-A-Pet Animal Rescue"
Adoption
Center
These Pets Need
a Home
Jake
Jake is a large, handsome fellow with a striking and beautiful tabby coat...
Read More »
Katie
Katie is a female calico with stunning markings. She is very sweet and loves to be petted...
Read More »
Tyler
Tyler is a large, playful male with a gorgeous orange and white coat...
Read More »
Julie
Don't let Julie's picture fool you! Although she wouldn't "smile" for the camera, be assured...
Read More »
All of these pets have either been spayed or neutered and are up-to-date with routine shots.
View pets in our adoption center and fill out our online adoption form.