Happy Endings
Submit your own happy ending story here.

To send a photo, email it to [email protected].
---
Kristie, Farmingville, NY
Hi I just wanted to let you know how Larry is doing. I adopted him 2 weeks ago and he is the most lovable little boy. He came to me when I was having a hard time and has rescued me! He is so happy and such a good puppy. We all love him very much.

---
Anne, Shoreham, NY
We've had Roscoe (formerly known as LP) for about 2 weeks now and we can't remember life without him. He was shy at first but quickly warmed up and now has us all wrapped around his tiny paws :). He loves to take long walks and does a cute little "happy dance" anytime one of us comes through the door. He has already slept in every bed in the house and we just thrilled with our new family member.

---
Coleen Vacirca
Hi!! I wanted to send you some pictures of Peety...the little toy poodle we adopted in January. He is such a special part of our family....our other dogs love him and so do we!! We don't know when his birthday is or how old he is, but my girls decided he needed to have a birthday. (Our 3 other dogs all celebrate their birthdays too) My girls chose June 21st and decided he is 6 years old. We made him a cake out of ground beef and mashed potatoes, sang Happy Birthday and gave him presents. He is such a special little guy and we want to thank you for rescuing him and bringing him home to us!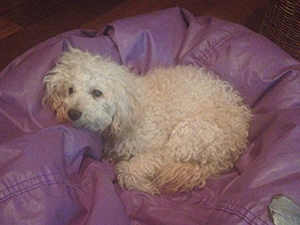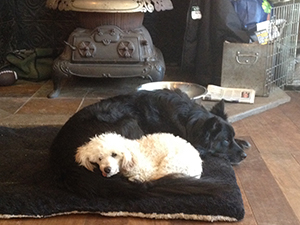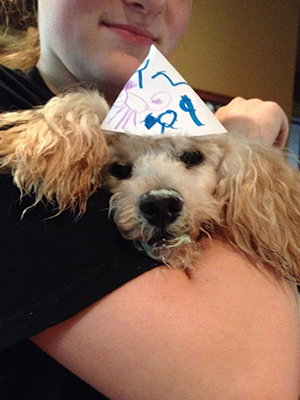 ---
Nancy, Mineola, NY
We've had Rosie, formally known as CoCo, for a year and a half now. She's a 10-year-old Bichon, and she is a total sweetheart! It took a bit for her to not tremble if a hand was raised anywhere near her, and to not hide under the bed, but now she fits right in, clamoring for belly rubs, and grabbing cuddles and hugs. Oh, and originally she didn't like hugs either. It makes me sad to think a dog could be scared of hugs.
Our other dog, also a rescue, took awhile to warm up to Rosie, as she had lived as a breeding mom in a puppy mill, and didn't want to share attention, but now they have very few doggie arguments, mainly because Rosie came to us with great dog AND people manners. And Rosie loves to be silly, she can be a real clown. Nothing makes her happier than seeing she makes someone smile. It took awhile, but with a rescue doggie, they need awhile to feel safe, and the one thing we did know about Rosie, is that she was abandoned by her owners when they moved, and was picked up by NYC Animal Control. All in all, I'm glad Rosie ended up at Save A Pet, and then with us. She's happy to be here, and we're happy to have her.

---
Steve
Just wanted to let you guys know Denver or Denny as we call him has settled in to our home and is doing absolutely fine he loves to play run around and explore all the rooms and closets in my home he is a constant companion to my fiance and I. We love him greatly and wanted to thank you for being there for him and us. I have recommended Save a pet to all my friends in the area who are looking for a cat or dog thanks again -Steve, Tara, and Denver

---
Kellyanne, Setauket, NY
Ginger, who is now Maggie Mae, is a Besenji Congo Terrier, who was found with another dog in a someone's backyard. They'd abandoned them there and left during a terrible snowstorm. Both Maggie and her friend were both struggling to survive, when a neighbor heard them crying and they called Save A Pet. They were dug out of 3 feet of snow and were taken back to Save A Pet to get very well taken care of. Maggie was very skinny and boney when we first met her but we knew she was the dog for us. We took her home and after only a few days she was back up on her feet and was back into shape. She is now a very loving, playful, happy dog and sleeps with me every night. Still after a year and 3 months, we still call her family. We are so thankful for Save A Pet and are so thankful they found her!

---
Mary, Sound Beach
I have had Skyler for one week today and my how he has changed within one week from a kitten who hid underneath my bed at all times, to someone who rules the roost.The past few days, my computer time which I had already cut down on has been cut further — He loves the little arrow the mouse makes and looks at the screen. Oh, and he loves taking sips of my decaf tea at night.

The other night when I was getting into my pajamas, he knew it was computer time and also treat time. He was already in my office waiting for his treats.

While he still uses underneath my bed as his safety zone, I am sure he will grow out of that. But, he has summarily dragged his toys underneath my bed. In fact yesterday he dragged his bed underneath it. Wow! A kitten on a mission.

When we got home from food shopping he had taken the roll of toilet paper from the bathroom and dragged part of it into the hallway. I tried to teach Sampson that trick, but he never took to it. This little boy has already mastered this trick.

Instead of sleeping with me last night, he chose to run around, waking me up several times. I feel like a new mom with a newborn baby this morning. He loves looking out of the front window and wait to see the neighborhood cats make their appearance. I will just have to explain to him that he can't go outdoors.


---
Cindy, Setauket, NY
I adopted my dog, Delilah, who is now Maggie, from Save-A-Pet. I just want to thank everyone there, who works tirelessly to rescue and find good homes for these animals. Maggie is the most loving and kind dog that I have ever known. She is so loved and well-trained that we take her to restaurants that allow dogs! We are in Florida for the winter. She sits on the chair while we eat & they even have a doggie menus.
I am so grateful to the staff at Save-A-Pet for saving the lives of this litter! Unfortunately, their mom, Juliette, did not have the same outcome. I was told that my Maggie looks just like her mom & has the same wonderful temperment. I will never forget Juliette for taking such good care of her pups!

Thank you Juliette and Save-A-Pet for giving me the most precious gift of love!
---
Samantha, Mount Sinai, NY
My family and I just adopted Fatts, now Apollo, the Siberian/Shepherd today, and we have a black Lab named Bella. They instantly got along. The puppy is amazing. Has one blue eye, one brown. He's already 19 lbs at 2 months. He loves to kiss and play, he listens well, and is very good with my son, who's almost 11. I'm grateful that Save-a-Pet exists. They are a very well established shelter, helping animals all over. Animals are family members, and should be treated as such. They shouldn't be abused, killed, tortured, and be used just to make a profit. Keep up the great work, Save-a-Pet. Thank you for letting us adopt our baby boy.
---
Denise, Holbrook, NY
I adopted Blue when she was just a wee thing, the runt of a litter of pitbulls. She survived parvo, and the abuse from her brothers and sisters. When I saw her with the little bite marks all over her, her tiny body, and big ears. I had to have her. You named her Josie, I change it to Blue, she is the best thing in my life. Thank you <3.
---
Lisa, Port Jefferson, NY
14 years ago, my good friend and huge supporter of Save-A-Pet, Erica K., brought me into Save-A-Pet in Port Jefferson. I walked in and right there by the front door was a cage with the cutest puppy sitting inside. Brown and black with huge puppy paws that looked like he would trip over them if he was running. I could not resist his face, hes droopy ears and his sweet face, I needed this dog. I looked at Erica and said he must be mine. I need him! Of course, the initial response from my parents was absolutely not — so much responsibility! I said I will step up to the plate (my brother, Chaz and I both will) . I begged and pleaded and refused to take no as an answer. Hearing no at the age of 14 was just not an option, and especially if you saw this puppy! I begged for her to just come and look at him, and when she did it was immediate love. As if we had known him for years we kissed him all over his face and couldn't wait to take him home.
Two days ago, on February 11th we said goodbye to my Eddie. He lived the best 14 years any dog could. He attended every parade, every festival and was famous in Port Jefferson. He was a good friend of the Mayor's and loved his town, especially the beaches. My mom, his best friend is lost without him. He was her everything. I believe he got more kisses than my brother and I both combined! He was her companion, best friend, protector, walking buddy, and number one supporter.
The love we have for Eddie is not able to be put into words, but was shown when he passed away at home, peacefully, with a pastor saying a blessing, had candles and music playing, and 13 people in the home sharing stories and love of Ed. This dog can never be replaced and I am just so thankful to Save-A-Pet and to my friend Erica for finding us this dog. The love cannot be expressed I am just so thankful for him in our lives. He got us through everything and kept a smile on all our faces. Although this pain is awful, I know he is running around now, pain free, at the beach with plenty of toys and treats.
Thank you Eddie. We love you and always will. Stay by our sides.
---
Rich, Coram, NY
On January 21, 2015, I adopted Bailey. She has been nothing but a great little dog so far and quickly became my little shadow following me everywhere. She has the sweetest temperament of any dog I have owned. She has already become the official mascot of Boy Scout Troop 174. That is her wearing her official Boy Scout Neckerchief. Everyone at Save-A-Pet made the adoption process a very pleasant experience were super friendly!
---
Tina, Seattle, WA
Dickens, aka "Jiminy", put his paw on my arm when I was holding another cat at Save-A-Pet on February 15, 2013, and stole my heart. I went back to adopt his friend, "Cricket," the next day, but she had already been adopted. Dickens is the most remarkable cat I've ever encountered; we are completely tuned into each other. He is, as most people who meet him say, a "Buddha Cat." Dickens moved to Seattle with me and now has a puppy housemate who keeps him company and on his toes, but Dickens rules the roost and knows he will always be my Number One.
---
Denise, Ronkonkoma, NY
We got our cat, Oreo, 13 years ago at Save-A-Pet. We always say she picked us. She is the most loving, wonderful cat we have ever had. We are so glad she is in our life.
Keep up the good work.
---
Andrea, Southern Shores, NC
We adopted Jax (formerly Jake) last Tuesday and brought him home to the Outer Banks of North Carolina. He has adapted extremely well to his new home, and even gave his big brother, Levi, a hug. This is the cutest, smart, playful and most lovable dog! We hit the jackpot with Jax!
Thank you!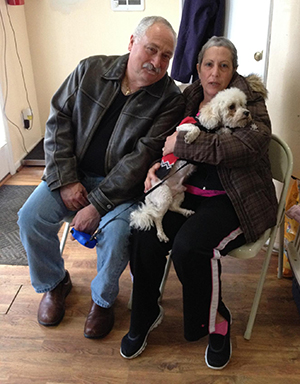 ---
Annie, Patchogue, NY
Who wouldn't love this face? Well we couldn't resist either. From the moment we arrived at Save-A-Pet, to the moment we left, Stanley remained in our arms. We are forever thankful to Save-A-Pet for giving us our fur baby!
Yours truly,
Allison, Annie, and Stanley.
---
Colleen, Seaford, NY
In August 2014, I was in Port Jefferson for a day out with the family when we walked into your rescue store and fell in love with the two most wonderful 6 year old Havanese-Mix dogs, Rocky and Lucky. These two lovable brothers have completed our family. They are truly the sweetest and most lovable dogs. They adjusted to their new family right away! Thank you for all of the wonderful work you do at Save-a-Pet.
---
Amy L., Lake Grove, NY
In September, I walked into Castaways and came upon the most beautiful Dachshund named Daisy. She is a senior dog who has had a rough life—she has no teeth or bottom jaw. My husband and I fell in love with her and adopted her. It has been a little over a month and she fits right in with her little sister Schatzie (also a Doxie) and her little brother Odie (a Rottweiler). They all get along beautifully, and it is as though she has been with us since a puppy! She eats well (I soften her food for her) and plays. She loves to be held and cuddled, as well as rest in her new princess bed! She is now living the life she so deserved all along! Thank you Save-A-Pet for bringing her into our lives. We love her!
---
Catherine, Farmingville, NY
Today we adopted our new family member, Amigo, new name, Milo. I want to thank Save-A-Pet for bringing him into our lives. Our family had a pet for 18 years, and he passed on about 3 years ago. It was a long time before I was able to bring another dog into our lives. But we went to Save-A-Pet today, they brought out Milo. He came right to me and wouldn't leave my side, so guess what, I couldn't leave his. He is home with us now and hasn't left the side of me or my husband. I know this is the beginning of a new life for him and for us. Thanks Save-A-Pet.
---
Kaitlyn, NY
---
Christina, Seattle, WA
I adopted "Jiminy", a big black cat on 2/15/13. I went back to adopt his friend, Cricket, the next day but someone else had adopted her by the time I got there. Jiminy is simply the best cat ever. He is tuned into people and other animals (he now has a little dog roommate) to the point where it's like having another human around. To the family who had to give up this exceptional cat: I'm sure it must have been heart-breaking to give up Jiminy, but I want you to know that he is healthy, happy, and surrounded by a large extended family that includes cats, dogs, children, and adults who all shower him with love and attention. Thank you for raising such a wonderful cat!
---
Antonietta, Elmont, NY
Well girls, here is Gunner. He loves his new home and brothers, and also his sister. But most of all, we love him to death. He is so much fun to watch. He loves to play with his new family. Gunner loves his new home. His eyes have healed very well. His coat is beautiful. We will visit soon. Thank you so much, we love Gunner and he will live a happy life.
---
Ronkonkoma, NY
We met Bessie (formerly known as Betty) at a pet adoption fair and fell in love with her immediately! She is such a sweet, loving, playful girl! So many people stopped to see her that day. We didn't want her to get adopted out from under us so we filled out the application on the spot! We are so grateful to Save-A-Pet for finding her! Bessie brings so much happiness to our lives and we're thrilled to have her! She is cozy with her new toys in her new home!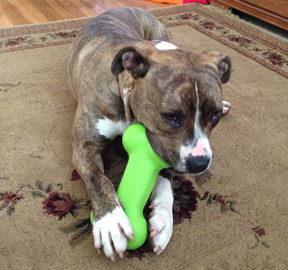 ---
Pepper, NY
We adopted Pepper (aka Pepperoni) in August 2013 and it's been nonstop excitement ever since. He has more energy than he knows what to do with and keeps everyone on their toes, especially his "big sister" who sometimes will just roll her eyes at him. We've been having a great time with him! Thanks!
---
Carlie, NY
We LOVE him! He is so silly, fun and loveable! Thank you So much! I'll continue to send you updates and pictures of him. (: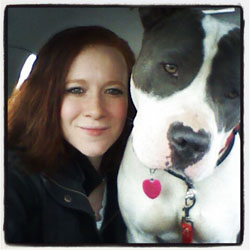 ---
Edgar, Coram, NY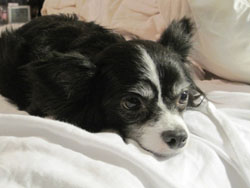 It was a cold & dreary winter day. Someone threw me and my girlfriend away. We were dumped at a Psychiatric site and left with not a bite. We roamed through the days and nights. Freezing & starved, no hope in sight.
Then one day we ran into some luck. A man caught us & took us for a ride in a truck. We were given some food and cages to keep safe. While this was an improvement, it was still not the right place. Then one day an angel named Dori arrived. She took pity on us and gave us a ride.
We came to Save-A-Pet in a town called Port Jeff. A happy little place full of warm hearts and soft beds. We got medical care and attention galore. Then we were told of a promise, to never be alone anymore. These angels of ours would work hard & tirelessly to give us a forever home. This was more than anything we could ever wish for.
The day came when my new family & I met. Save-A-Pet made sure it was a good fit. At my new home there is a chap named Tiger. He wears a smile on his face & tells me he too ca