Save-A-Pet's Dori Scofield Urges Suffolk Residents to Support Stricter Laws for Puppy Stores at The Suffolk County Legislature's Meeting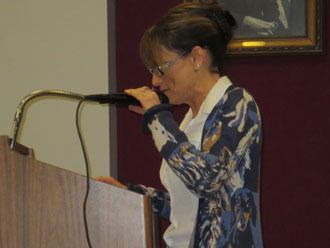 On April 29, Save-A-Pet Animal Rescue and Adoption Center, Inc.'s Founder/President, Dori Scofield, spoke on behalf of voiceless animals to defend her beliefs on mandating stricter laws for Suffolk County pet dealers. Legislator Jay Schneiderman and a committee of animal rights advocates have proposed a bill (1047-2014), which would better protect companion animals being sold in pet stores in Suffolk County.
"This law will not prevent pet dealers from using puppy mills, but will require them to be fined if they use mills with USDA violations," said Ms. Scofield. "It is one small step for puppies. The giant leap comes when New York State allows a full ban of these commercial breeding facilities."
Since New York State will not allow the ban on the retail sale of dogs and cats, Ms. Scofield supports stricter laws for these puppies and dogs that do not have a say on the issue and are forced to live in cruel conditions. Suffolk County has approximately nine pet stores and three kennels that sell dogs from puppy mills—commercial breeding facilities which many realize are inhumane factories for puppies. The parents of pet store puppies live in a world without love, without human contact at all, often in crates covered with chicken and turkey wire. They are bred as often as possible—sometimes until death.
For more information on the proposed bill, please contact Save-A-Pet at (631) 473-6333, or visit the website for the event at www.saveapetli.org.
CAPTION: Dori Scofield, Founder/President, Save-A-Pet Animal Rescue and Adoption Center, Inc., stands up against puppy stores and puppy mills at the Suffolk County Legislature's meeting, which was held at the Riverhead Legislative Auditorium on April 29.