October 7, 2010
Save-A-Pet Founder/President Dori Scofield Comments on Vote for Animal Abuser Registry Legislation
Dori Scofield, Founder/President, Save-A-Pet Animal Rescue and Adoption Center, Inc., today urged the Suffolk County Legislature to pass a bill introduced by Legislator Jon Cooper that would create an Animal Abuser Registry. If the bill passes, it would make it the first municipality in the nation to have such a registry on the books. The Legislature is scheduled to vote on the bill on October 7.

Similar to the sex offender registry legislation, the bill would contain the names of those residing in Suffolk County who have been convicted of animal abuse. Each registrant would submit their name, address, their head shot and a $50.00 fee. Their name would remain on the registry for five years after their release from prison or the date the judgment was rendered, whichever is later.

"I am asking the Suffolk County Legislature to pass this crucial piece of legislation," Ms. Scofield said. "This registry system will serve as a wake-up call for those who engage in the cruel treatment of these poor, defenseless animals. In recent years, we have had some high-profile animal torture incidents here in Suffolk County. Passing this landmark legislation will ensure that such tragic incidents do not happen again."

To make a donation or to volunteer, please call Save-A-Pet at (631) 473-6333 or visit www.saveapetli.org.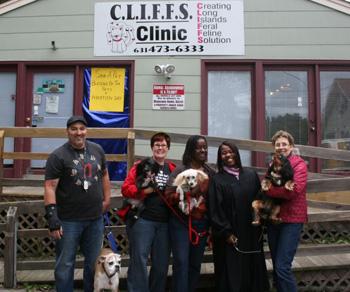 Teresa Spencer (second from right), Minister, First Baptist Church of Bay Shore, is joined by pet owners and their pets during the Blessing of the Pets at Save-A-Pet Animal Rescue and Adoption Center, Inc. on October 3.