December 21, 2011
Author Dianne Greco Signs Copies of Her Book "In The Hands of Grace" at Castaways
Local author Dianne Greco signed copies of her latest book "In The Hands of Grace" at Castaways, Save-A-Pet Animal Rescue and Adoption Center's retail store and pet adoption facility, in Port Jefferson on December 3. All proceeds from the book sales went to benefit Save-A-Pet.
In The Hands of Grace" tells the story of Susan Appleton, a woman who is accustomed to a luxurious lifestyle until her husband is killed in a car crash. With a little insurance money and a lot of debt, she is forced to get rid of her big house, big cars and big life in Nassau County and move into her tiny weekend cottage on Eastern Long Island full time.
When she is suddenly fired from her well-paying but highly stressful job as a gem broker in Manhattan's Diamond District, she is once again forced to cope with a sudden, unwelcome change. She worries about her son, her finances and if she will ever find another job. But when she meets her neighbor, Grace Burton, Susan is amazed at how safe she feels around her. With Grace's friendship and clairvoyant gifts, she learns some very important lessons about the value of life's simple pleasures.
Ms. Greco, a Port Jefferson resident, had adopted two dogs that were rescues. She was also aware of Save-A-Pet and their mission to rescue and rehabilitate these animals and make them available for adoption, which is why she chose to donate money from the book sales to Save-A-Pet.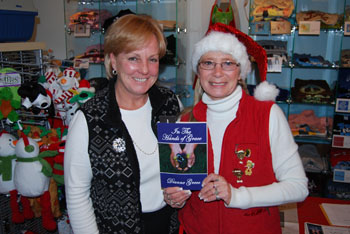 Dianne Greco (left), author of "In The Hands of Grace," and Lynne Schoepfer (right), Executive Director of Save-A-Pet Animal Rescue Center.