August 20, 2010
Save-A-Pet Founder/President Dori Scofield Supports Animal Abuser Registry Legislation
Dori Scofield, Founder/President, Save-A-Pet Animal Rescue and Adoption Center, Inc., says she supports proposed legislation introduced by Suffolk County Legislator Jon Cooper that would create an Animal Abuser Registry. If the bill is adopted, it would be the first municipality in the nation to have such a registry on the books.

Similar to the sex offender registry legislation, the bill would contain the names of those residing in Suffolk County who have been convicted of animal abuse. Each registrant would submit their name, address, their head shot and a $50.00 fee. Their name would remain on the register for five years after their release from prison or the date the judgment was rendered, whichever is later.

"I applaud Legislator Cooper for introducing this landmark legislation," Ms. Scofield said. "This registry system will serve as a wake-up call for those who engage in the cruel treatment of these poor, defenseless animals. In recent years, we have had some high-profile animal torture incidents here in Suffolk County. We at Save-A-Pet hope this legislation is signed into law so such tragic incidents do not happen again."

Save-A-Pet is seeking donations to help pay for the medical costs of these animals. To make a donation or to volunteer, please call Save-A-Pet at (631) 473-6333 or visit www.saveapetli.org.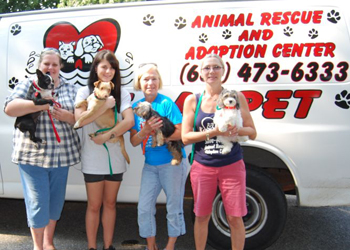 Members of Save-A-Pet Animal Rescue and Adoption Center pose with some of the animals rescued from a puppy mill on September 1. Pictured (left to right): Save-A-Pet Volunteers Sue Manolakis with "Panda," a Boston terrier; Erica Moldashel with "Bradley," a terrier mix; Pam Rice with "Joey," a silky terrier; and Executive Director Lynne Schoepfer with "Zoey," a cockapoo.